Miwok Construction's company make up is largely comprised of former military and government contractors, giving Miwok a unique insight into the challenges and problems facing the stewards of government property and funds. This insight is what gives Miwok an edge in working with DoD and DoE clients as we remain flexible and responsive while understanding their constraints. Miwok Construction LLC employees have completed multiple projects for various government agencies. Agencies include Veterans Affairs, Dept. of the Navy, United States Air Force, U.S. Army Corps of Engineers, NNSA, FAA, Air National Guard, and the U.S. Coast Guard.
Miwok Construction is currently a holder of a $50M electrical IDIQ at Edwards Air Force Base as well as the West and Southwest regions for the US Air Force's roofing AFICC IDIQ (our in-house roofing staff is second to none!).
Miwok Construction LLC is certified by the SBA to be a Tribal Owned 8(a) participant. This designation is recognized for SDBE requirements for prime contractors doing business with any Federal Agency.
BONDING CAPACITY: $20M
CAGE: 7C7R3
DUNS: 079743566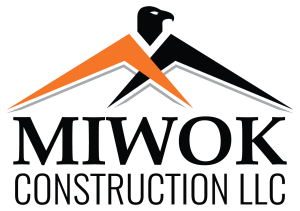 JEFF ANDERSEN
Chief Operating Officer
Former pilot in the Air Force.  Jeff has earned his Bachelor of Science degree in Civil Engineering from the United States Air Force Academy.

CHARLES MADDOX
Chief Information Officer
Former Instructor Pilot in the U.S. Air Force with a degree in Computer Science and an MBA. Charlie co-founded FedVan, a transportation company specializing in workplace commutes for federal employees and non-emergency medical transportation for disabled vets.

STEVE HINDERS
Business Development
Founder of Miwok Construction with 30+ years of experience in Federal Construction. A Chief Master Sergeant in the USAF,  Steve was part of Red Horse.

JEFF HINDERS
Chief Finance Officer
Former owner of Leon Construction and over 10 years of experience managing and running a construction firm with 150 employees which did over $90 million in business over an 8 year period.

STEPHANI ORAM
Project Manager
AREAS OF EXPERTISE
Project Management, Customer Service & Client Care, Interpersonal Communication, Budget Management & Finances, Global Business Culture & Protocols.

GARY COLLINS
Roofing and Sheet Metal Division Manager
Gary has been in the construction industry since graduating from high school in the early 1970s. For the past 20 years, his focus has been on government contracting. Gary is currently overseeing the AFICC (Air Force Installation Contracting Center) Roof Repair, Replacement, & Maintenance Contract in Region #1 West and Region #4 Southwest. Gary also works with the Army Corps of Engineers, Bureau of Land Management, Dept. of the Interior,  GSA, and NAVFAC. This vast knowledge of roofing systems has given Gary the ability to help decide which roofing system would be the greatest benefit for his customers.

KYLE KINNISON
Project Engineer
Starting from a Project Admin role, Kyle has worked up the ranks to Project Engineer while also filling crucial roles at Superintendent, Quality Control Officer, Site Safety and more.